When I first moved here, I realized that the City of Paso Robles, formally known as "El Paso de Robles" or the 'pass of the oaks' didn't have a Main Street.  And then, when I read up on the history of this place,  I found out why. 
Paso Robles, long ago, was once just a place where some hot springs came up through the ground, watered a grove of oak trees, and the water made some very nice hot mud holes for the bears to roll around in when the weather was cold.  The Indians were also known to frequent the area and soak in the pools of hot spring water……somewhere pretty close to the downtown core.
It was learned that the mineral water was healthful to drink and great to soak in for muscle relief.  So an enterprising person built a small hotel next to the hot springs.  When stagecoaches were traveling through from San Luis Obispo to points North, the weary travelers would stop by the small hotel that had been built next to the hot springs.  They took advantage of the rest after the long climb up the Cuesta Grade (where very often all occupants of the stagecoach had to walk so the horses could make the climb) and would utilize the medicinal benefits of the hot springs.
When the City of Paso Robles was developed in a more formal way, the hotel was all ready on the main road through town.  And on that street were the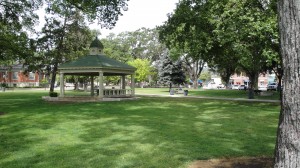 hot springs.  Therefore, Spring Street is the Main Street in Paso Robles.  In fact, Hwy 101 once ran right through the center of this town.  Thank goodness the City of Paso Robleshad the foresight to move the highway to the eastside of town many years ago.

So when you are traveling north or south on Hwy 101, Spring Street is your exit.  It takes you through the downtown core, next to the lovely downtown park, past many businesses, the City Hall and Library, and of course, that old hotel, now known fondly as the Paso Robles Inn.
An if you like history, I have lots more stories about the City of Paso Robles.  Happy to share them while I am showing you houses.  This is an awesome place to live and I know you'll like it here!
"Always Expect the Best!"                                    

805-674-1968                                   www.joaniewilliams.com