In a day when water tables are dropping in the Paso Robles aquifer, and this area has had many years of less than average rainfall, Atascadero 
seems to be in no trouble at all.  Perhaps it is due in part to the excellent management of this precious resource by the Atascadero Mutual Water Company.  Perhaps it's the help of Lake Nacimiento water, or that when asked to help cut back on usage, the residents have willingly used 20% less water.  Or perhaps it is the result of foresight by E.G. Lewis, the founder of the City of Atascadero 100 years ago which has placed this area in this enviable position.
Whatever the reason, Atascadero has enough water to service it's clients this year with no water restrictions.
I recently toured a portion of the area from which Atascadero's water comes.  John Neil, General Manager of the Water Company invited area residents to view the wells, pumps, and newly installed Nacimiento water intake basin.  The visit was informative and fascinating.  I learned that the employees of the AMWC take great pride in what they do and how they care for and manage this resource.  The buildings both inside and outside which house the pumps and tanks are immaculate.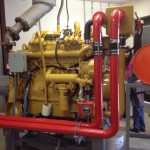 John stated that they felt very responsible to not only care for this resource today, but understand that what they do today can affect the generations of residents for many years to come.
It was interesting to see that the water the City residents drink is truly well water, from 17 wells along the Salinas River Basin. And beside a very minute amount of Chlorine that is added to the water, a very small amount of Phosphoric Acid is also added which helps to protect the water pipes.  That's it!  No other processing required.
The wells are anywhere from 250 to 500 feet deep, depending on where they are located along the basin.  Both riparian and appropriative water rights were deeded to the Mutual
Water Company by E.G. Lewis when he founded the city so that it's residents would always have the water they needed.  According to John Neil, the residents "can basically use as much of that water as we can take."  The water is free.  The cost to the customer is based only on the cost of distributing the water to the them.
In drought years, I think that's pretty good news.   Someone has been thinking ahead!
"Always Expect the Best"