Last week I was finally able to attend the Ag Tour of 2013 which is hosted by the Paso Robles Chamber of Commerce.  The tickets have always sold out before I could purchase one, so this year I was determined to buy a ticket on the first day!   There were about 300 attendees.
Have YOU ever been on an Ag Tour?  Well, neither had I.  So I'd love to share a bit about what I learned there.  First of all, the tour focused on the ranches and farms of the Northern parts of Paso Robles, and into San Miguel and Parkfield.  We visited the San Miguel Mission on the way out and were treated to speaches by the local clergy and a decendant of the Salinian Indians who were the original inhabitants of the area.
Oh yes, it's always good to have a great group of friends with you.  Thank you Mariann, Kathy, Missy and Christine!  But everyone on the tour was so friendly.  I even met some great gals while waiting in line at the restroom!  After The Mission we visited the Cagliero farm where we learned a whole lot about how difficult farming is when we are in the middle of a drought.  In fact, I think without meaning to do so, the tour truly was an education in how very far behind we are in rainfall and how it affects the farmers and everything around us.  We are in a real drought here!
The costs just to purchase farm tractors is hugemongous!  It is a way of life that looks
idyllic but is very risky business.  However, the land up along Indian Valley north of San Miguel where the ranch is located  is beautiful.  There are Tule Elk, deer, turkey, and even occasional wild pigs.  There are many families in this part of the county who have been here for generations.  Harry Ovitt, one of our local politicians, was our tour guide.  He grew up in San Miguel, knows all the locals, and had many colorful stories to share about the past.
We visited Parkfield, earthquake capital of the country, maybe the world.  Situated ON the San Andres fault this little town is accustomed to lots of shakin and rollin.  The one restaurant in town is renowned for it's hamburgers and general fare.  This also is a beautiful area with lots of local, small town friendly feel.  Even the dog loves it here.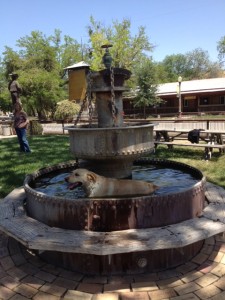 After a speech by a local geologist about how Parkfield sits on the division of the Pacific and Northern plates (not talking about dinnerware) we headed south to the Jack Ranch, owned by the Hearst Corp.  It's about 75,000 acres of land and there too, we learned that the they are currently cutting back on the number of cattle they raise on the land because of the drought.  The manager who spoke was glad to answer any questions the audience had and it was very informative.
Two more stops took us to the ranch of our local, famous auctioneer, Rick Machado, and to Pear Valley Winery on Union Road.  Rick travels frequently around the Western US and auctions cattle and horses.  Interesting business but as he explained, it's not just about knowing how to be an auctioneer.  You need to know the product
you are selling or you can't do the right job for your sellers or buyers.  Reminds me of real estate.   Pear Valley Vineyard was interesting as well.  They grow their own grapes and make wine right on the premises with their own grapes.  We had a tasting of two wines and they were excellent.
Kind of an exhausting day, but this Ag Tour was so interesting.  I'm planning to go next year as well.  The ranchers and farmers and managers were so open and informative with their knowledge.  What a great way to learn!  And what a fascinating way to spend a day away from the office! 

"Always Expect the Best"