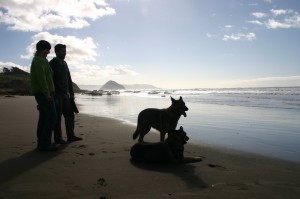 What's it like visit here?  Sometimes I can't believe how beautiful it is, and how perfect the weather is!  The California Central Coast has so much to offer.  First of all, it's a very friendly environment.  Clients of mine will tell me that people on the street actually smile at them!  Yeah.  This is not the city.  We like our neighbors and the local businesses, and even the people at the Post Office greet you with a smile!
Paso Robles was recently voted one of the top 10 places in the world for a family to go on vacation.   Besides the wineries which are gearing up to be more family friendly, we have other great stuff to do.  The County has at least 4 dog parks, a water slide, zip lines,  Hearst Castle tours, beautiful beaches, hiking trails galore, camping grounds,  Harris Stage lines for all kinds of horsemanship lessons, lakes with kayaks and paddle boats, a zoo,  lakes with ski boats and rentable watercraft, Childrens and Airplane museums…. Wow.  The list is longer than I thought.  I haven't even mentioned movie theatres, beach towns with great walkways and shopping, Farmers Markets, 3 Historic California Missions, the annual Mid-State fair…need I go on?
There is plenty for a family to do here on the California Central Coast and have an amazing weekend or week visiting.  Come try us out!  And if you decide to stay, I am always ready to help!