The horseback riding trails in California are awesome.  But the riding trails in Central California are some of the best in the Country!  I would love to share some of my favorite places with you.   And these are not just for Equestrians.  Most of these trails are open to hikers and mountain bikers.  But double check before you head out.
Santa Margarita Lake:  This trail head is just off River Road north of Pozo Road on the east side of Santa Margarita about 2 miles before the "town" of Pozo.  Plenty of turn around trailer parking, pit toilets, and trails that go on for miles.  There is a fee to park and a per horse fee so bring your checkbook.
  There's also one large water crossing near the beginning of the trip.  Not deep but about 20 fee wide so be prepared.
San Antonio Lake:  A lovely loop trail that takes you out to a point overlooking San Antonio Lake.  Picnic table, water for your horse and a pit toilet are at the far end.  A nice wash rack for a hot and sweaty horse is available at the parking lot.  And you can camp here as well.  Just off Jolon Road on the North side of San Antonio Lake.
Montana de Oro State Park:  This park has a number of places to park a horse trailer as well as overnight horse camping.  From Los Osos Valley Road go west past the town of Los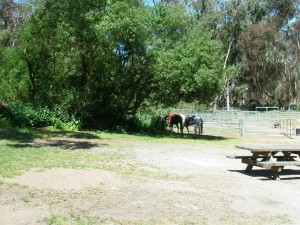 Osos and follow the signs near the coast to Montana de Oro State Park.  No fee for day parking and pit toilets are available.  There are a number of creek crossings which will allow you to water your horse if need be.  For some of the finest trails in California this park includes ocean bluffs, dune trails, serpentined hills, flat roads, creek crossings, eucalyptus forests and amazing ocean views.
So if you are looking to hike, bike, or ride, there is room to roam here.   Truly beautiful land in a truly beautiful State this often overlooked by others who only see San Francisco and Los Angeles as the defining locations for this beautiful, blessed place.  Come see the trails of California and redefine for yourself what this State is all about!

"Always Expect the Best"