It may seem to some people that we are not yet bouncing back from the Great Recession, but I can't seem to ignore the signs around this town that I pass by every day.  Signs that we truly ARE bouncing back!
Take for instance the new public bathroom that is being constructed in our downtown park.  I know.  Not the most exciting subject for some, but if you had seen what the old one looked like inside, you'd be excited for every person in this town who attends a park event (and there are lots of them) and doesn't want to drive to Target to use their restroom.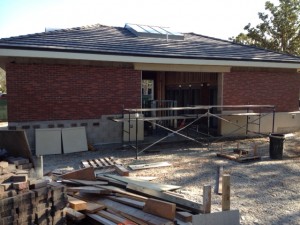 This is going to be a beautiful new bathroom.  And it shows that the City Council of Paso Robles is just starting to loosen up the purse strings.
Allow me to list a number of other projects happening around Paso Robles right now:
The old A & R Furniture store at the corner of Pine and 12th is going through a true metamorphosis. Previously one large furniture store, it's being completely remodeled into a number of store fronts for retail and restaurant use.
A new  on-ramp/off-ramp is nearing completion at 17th and Riverside Streets.
A new paved walkway across the 101 at 13th Street with new curbs and paving will be finished very soon.
The old Farmers Alliance Building has been purchased by Derby Winery and will become a lovely tasting room and wine processsing/cellar building.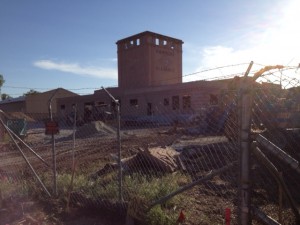 The Ayers Hotel has broken ground.  This will be a 250 room destination resort, located on Buena Vista Drive between the existing La Quinta Hotel and Cuesta College.
IQMS is building a 2nd structure to house it's growing software business.
Santa Cruz Biotechnology has it's 6th building is under construction.
And The Vina Robles Amphitheatre is nearing completion on Hwy 46 and it looks like it's going to quite the place for concerts.  By the way, I hear that Sunset Magazine is going to partner with Vina Robles for a special dinner/concert during the next Savor the Central Coast!
And I have all ready written about the growth in Atascadero in previous blogs.  They have a Spring Hill Suites getting ready to break ground and the City Hall is almost complete from a  major renovation which became necessary after the 2001 earthquake.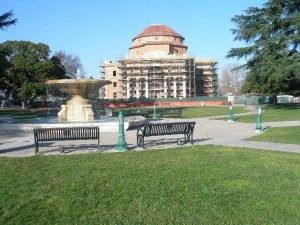 So I can't help but believe that the towns on the Central Coast are bouncing back after the Great Recession. 
I would love to forget what "short sale" and "REO" even mean in the real estate industry.  And it looks like those terms may be falling out of our vocabulary in the next year or so.
This great country, the great people who make up this country, are fighting hard every day to move us forward.  May The Great Recession quickly fade away into our history books.  And good riddance!